What makes a good roofing company?
In this case study, we'll be telling the story of Harbert Roofing Inc. through their most recent project, the one at Pactiv. Pactiv is an international food service solutions company with locations on three continents. They supply paper products and food service solutions to fast-food restaurants like McDonald's, and to food manufacturing companies like General Mills. Pactiv has 11,000 employees in over fifty manufacturing plants, including their local Red Bluff plant. With a massive roof measuring out at 200,000 square feet, Pactiv was looking for the top roofing company in Northern California for a reroof. Before long, they discovered Harbert Roofing fit their exact needs. This case study will focus on Harbert Roofing's craftsmanship and undying commitment to customer service at Pactiv. Our time spent with HRI has given us a deeper understanding of this company that we want to share. Please enjoy this story of a local, family-focused business.
Watch our Pactiv Jobsite Video!
The Harberts have been roofing in Northern California for decades. Since 1980, HRI has roofed thousands of homes and businesses in the North State, gaining a reputation in the region as a company of integrity, excellence, and service. The Pactiv project began in late May 2018 and was wrapped up by the middle of August. Despite being one of the hottest projects of the summer, Harbert Roofing managed to do an exceptional job on the roof. So exceptional, that Jeryl Shaw, Pactiv's project manager, called it, "The best experience he's ever had with any company, ever." In an interview with Jeryl, we asked him some questions about that experience with Harbert Roofing, and he eagerly commended HRI for their inclusiveness, customer service, and tips on tasty street tacos. More on those later.

Harbert Roofing has been doing commercial projects in Northern California since the early '90s. Before that, they were a smaller outfit sticking strictly to residential roofs in Redding and the surrounding area. Howard Harbert Sr. started the company in 1980, brought Howard Jr. on a few years later, and now, Howard Jr.'s 20-year-old son Bryce is on the roof, choosing to continue the company and heritage of hard work he comes from. And HRI doesn't just work hard; they work smart. Since 1980, they've gone from a small residential crew to the biggest roofing company north of Sacramento. As a 60-man crew, they complete roofs on over 100 houses a year while still thriving within the commercial context. They've done exceptional jobs on the roofs at View 202, Sierra Nevada Brewery, and many other well-known spots in Northern California.

Today, the company is known for quality roofing in the region and the impact they have in the community. When they're not up on the roof delivering a quality solution, they're down on the ground making the world around them a better place. Their involvement in Redding's local events, support for Shasta County's 4-H program, and quality roofs on the county's schools are a testament to the kind of company Harbert Roofing is on and off the roof. Howard Sr. passed the company on to Howard Jr., and Howard Jr. has brought up Bryce to one day carry the company. With a strong foundation, this company moves from roof to roof with a certain grounding you'd hope for from anyone working with heights.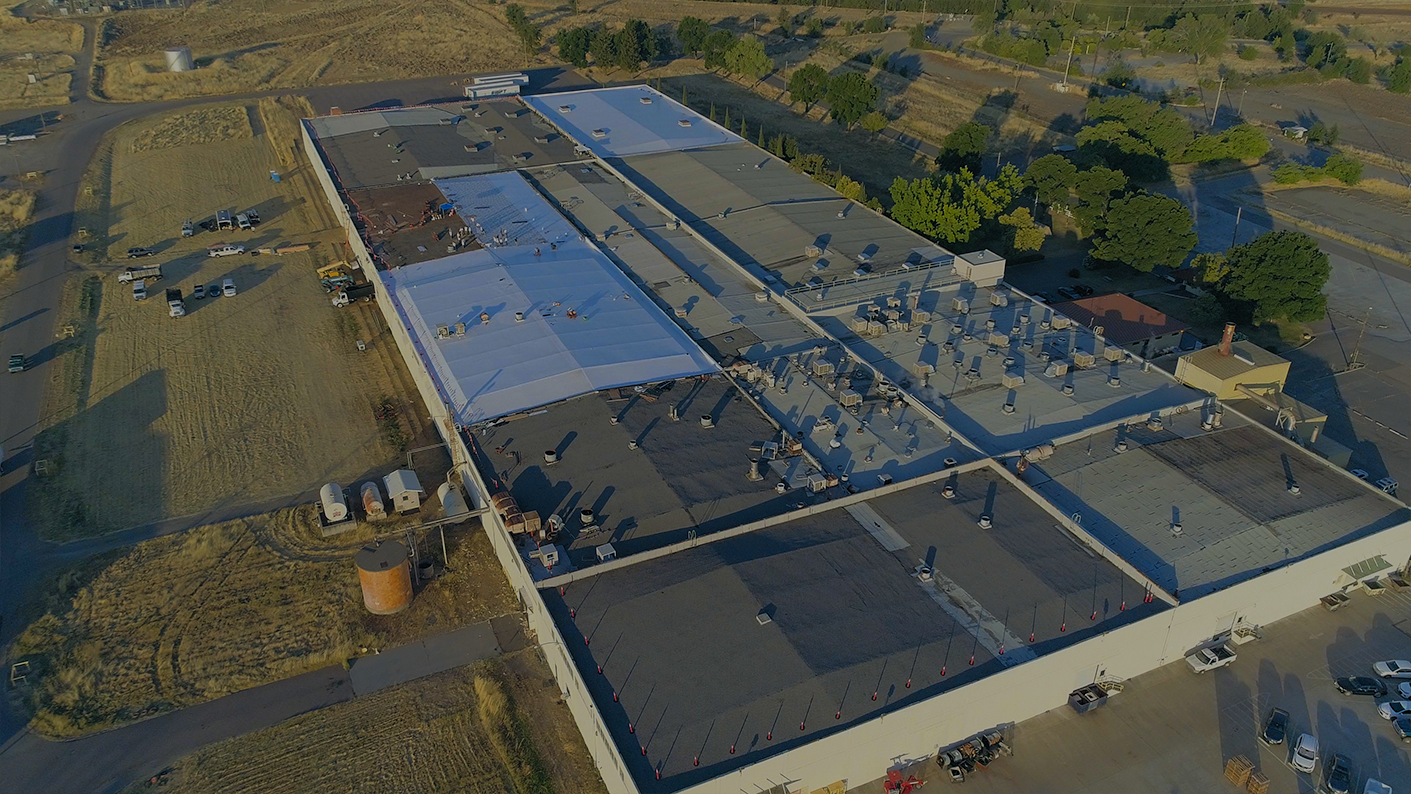 When it came time to climb the stairs this summer at Pactiv, it was done with three generations of momentum, legacy, and experience. HRI's crew for the Pactiv Plant committed themselves to a high level of craftsmanship and unmatched customer relations throughout the project.
Our story started on the ground, where Bryce prepped Pactiv's project manager Jeryl Shaw on the project's timeline and the work the team would complete each day. The project was predicted to take two and a half months and 8,600 man hours to complete. After all, it's a 200,000 square foot roof and the middle of summer. On day one, Harbert Roofing lifted equipment onto the roof – a sweeper, a rocker, four-wheelers, and wheelbarrows. Surely this was the first time anyone from Pactiv saw someone drive a four-wheeler on their roof. By this point, Bryce had Jeryl up on the roof to talk through the project. Bryce began the project by giving Jeryl a grid for when each section of the project would be completed. Jeryl would later comment that he "was invited on the roof nearly every day to see the progress of the timeline Bryce had given him on the ground." Jeryl was impressed at how "seamlessly the work and timeline matched."
For the first phase of the project, Bryce and his team removed rock and asphalt from the roof. This involved sweeping up wild debris with the sweeper and collecting rock with the rocker (of course). After the rock was removed, they ripped out sections of the old, existing roof sheet by sheet. This phase of the project went on for weeks. After the crew took the old roof away, they began putting on the new. By then, the roof was only bare wood, so HRI laid down installation atop the wood, followed by roofboard, covered with a single sheet of ply membrane called TPO. This combination allowed the roof to reflect the sun instead of absorbing it like rock roofs do. HCI then added adhesive and placed metal caps on the sides of the roof to weatherproof the surface. After each section of the roof was laid and sealed, they were probed to ensure that the seal held so the roof could be leakproof for years to come. Two and a half months later, Pactiv's roof is complete.
Harbert Roofing successfully removed 200,000 square feet of a decade-old rock roof, and replaced it with a longer lasting, modern solution that comes with a 20-year warranty from the manufacturer.

Now "out of sight and out of mind", Jeryl and his team can turn their full attention to operations under the roof.

A Taste in Tacos

Not every roofing project ends in tacos, but perhaps more of them should. Harbert Roofing is big on spending time together, especially when a project is finished. After all, there's nine father/son pairings on the team. With family as a company cornerstone, the team likes to eat together as often as they can. Their favorite? Meno's Street Tacos in Redding. Meno has been making tacos and serving them at parties and other private events locally for years. When Harbert Roofing discovered just how delicious they were, Meno's Street Tacos truck started to become a staple for HRI events. When we interviewed Jeryl, Meno's tacos were among the first things he mentioned. He said that one of the company's favorite parts in the experience came when the roof was complete, and a taco truck appeared. Howard Harbert had asked Meno's Street Tacos to come out for a celebration at the plant so Pactiv and Harbert employees could share tacos since the work was done. Pactiv's employees were so impressed with the tacos that when the truck drove away, they asked Jeryl if he could get Meno to come back a few times a year. Jeryl assured them he would.
Harbert Roofing's project at Pactiv was a study of a roofing company that goes above and beyond for their clients. Through excellent craftsmanship and customer service, HRI left a mark and won hearts with their service at Pactiv, and Pactiv has been telling the story ever since. From roof to ground, the project left Pactiv with pride that they were able to sign a local roofing company like Harbert Roofing for the job. The timeline was executed on time, the roof was flawless, and the tacos were tasty. With three generations of experience and a rich family tradition, Harbert Roofing proved once again why they're the number one roofing company north of Sacramento. While every Harbert Roofing project may not end in a taco feast, they all end with this kind of satisfaction.